Founded in 1964, the Denver Gem and Mineral Guild is an award-winning non-profit organization that pursues exploration, experimentation, and education in the Earth Sciences; the discovery, development, and preservation of minerals and mineral deposits; and the advancement, encouragement, and utilization of the principles of art and craftsmanship, as applied to gems and minerals.  We are a diverse group of women, men, and children who love ROCKS. We love to dig them, cut them for jewelry, and collect them. Our members love to share our passion for rocks and minerals. We have professional geologists, teachers, lapidary artists, and people who just love rocks.
We meet the 2nd Friday of the month – September through May at the Wheat Ridge United Methodist Church, 7530 W. 38th Ave, Wheat Ridge CO at 7pm – VISITORS WELCOME!  – CLICK HERE for details.
NOTE: Due to Covid, snow, etc. some meetings may be held via Zoom instead of at the Church – always check below for the latest schedule details!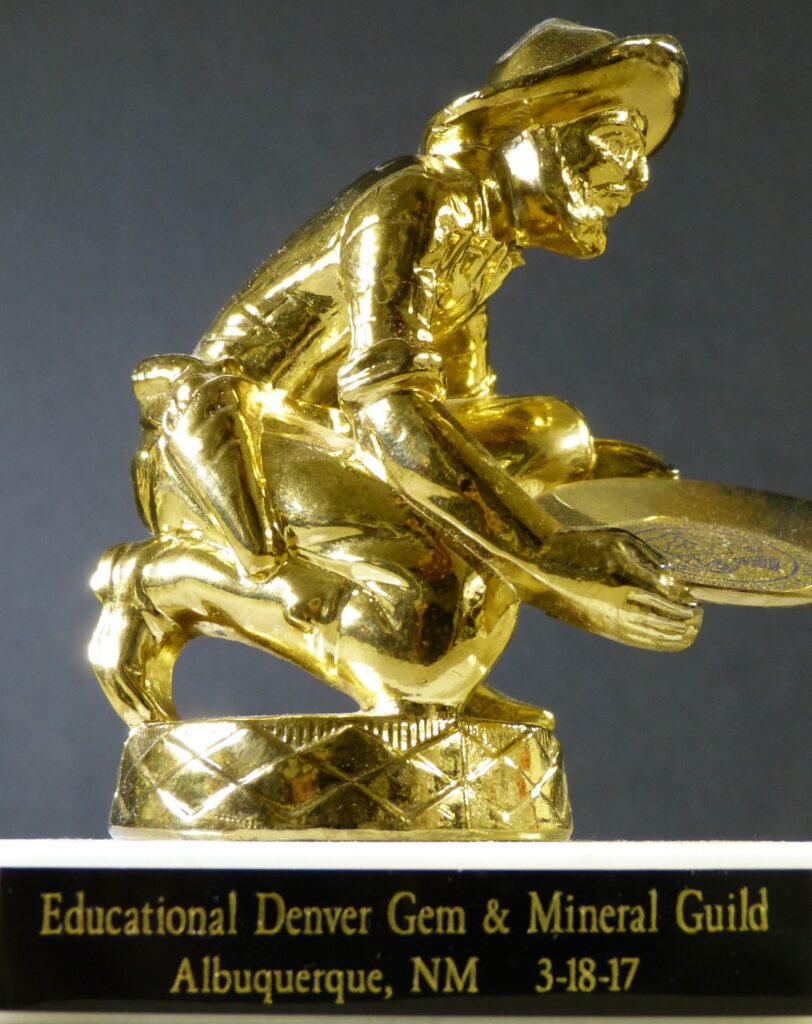 Aug/Sept 2023 Events Held
September 15-18 – Denver Gem and Mineral Show at the
Denver Convention Center – 700 14th St. Denver CO.
Saturday, September 23rd – Field trip to the DGMG Club Claims to collect, quartz, smoky quartz, amazonite, topaz, fluorite, and other fluorescent minerals. See the Newsletter for more pictures from the trip.
October 2023 Events Scheduled
October 13th, 7 PM – Annual Silent Auction
(Setup at 6 PM)
Come prepared to find some incredible bargains! This will probably be the biggest selection the Guild has ever offered at the annual auction!
Donations came from many sources from jewelry findings, slabs and cabochons, to prize and rare mineral specimens from Brian Kosnar's collection plus antique collecting magazines. Prices start at $1 and go up… exceeded only by your desire.
Bid slips are included in the October Newsletter if you want to sell—use your initials to identify your items. There will be a table full of thumbnail specimens, some little lovelies! For a minimum bid of $1. And some VERY RARE micromounts!
The auction will also have a darkened fluorescent room for minerals that glow under UV Light.
The 2024 calendars will be available—$10 for the beautiful production by Caleb Smith and the historical committee celebrating our 60th anniversary! Proceeds go to the scholarship fund.
Nov. 10: DGMG Meeting – Florissant Fossil Beds by Mary Ellen Benson, Ph.D.
Dec. 2: (Saturday): Popcorn and grab bag stuffing party, location Deb Baldwin's house
Dec. 8: (Friday): DGMG Holiday party, WR UMethodist Church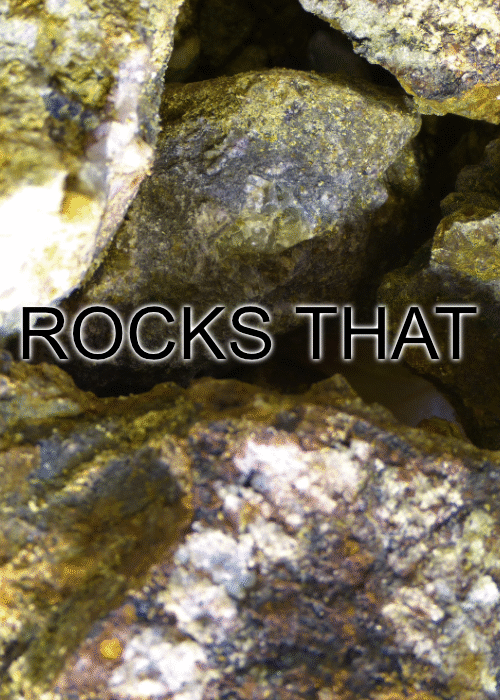 Join the Denver Gem & Mineral Guild!
The Denver Gem & Mineral Guild is a member of:
The Greater Denver Area Gem and Mineral Council, Inc., host of the Denver Gem & Mineral Show™, is a non-profit 501(c)(3) corporation organized exclusively for charitable, educational, and scientific purposes. Trustees from each of our seven member clubs sit on the Council Board. The Council oversees the annual show, and twice each year, the Council distributed proceeds from the show in the form of grants to not-for-profit organizations, particularly those based in Colorado, to promote activities that educate the public in the earth sciences.
Annual giving ranged from $20,000 to $30,000. Funds were directed toward site and specimen preservation and display efforts, as well as to assist institutions in purchasing equipment, tools, and supplies. Recent grant recipients have included the Denver Museum of Nature and Science, Colorado School of Mines Geology Museum, Dinosaur Ridge, Morrison Natural History Museum Foundation, Hinsdale County Historical Society, Canyon City Geology Club, Big Horn Basin Foundation, and the Junior Museum of Pennsylvania.
Since Covid, and the loss of our venue at The Mart, our new event at the Hardrock Summit continues to provide a showcase and outreach to the community, as we work on returning to profitability.
The Rocky Mountain Federation of Mineralogical Societies has a close association with all the clubs in the Society to promote the study of earth sciences, including the lapidary arts, the study of fossils and paleontology, and related crafts.
The RMFMS was organized in 1941, and held its first annual convention at the Argonaut Hotel in Denver, Colorado. There were 16 organizations in attendance. The RMFMS became one of the original four founders of the American Federation of Mineralogical Societies when it was organized in 1947.
The Rocky Mountain Federation of Mineralogical Societies covers local clubs in the following states:
Arizona (17), Arkansas (1), Colorado (20), Kansas (5), Nebraska (western portion of state) (1), New Mexico (7), Nevada (1), North Dakota (western portion of state)(1), Oklahoma (9), South Dakota (western portion of state) (1), Texas (1), Utah (7) and Wyoming (7).
For more on the early history of the RMFMS, check out History of the Rocky Mountain Federation of Mineralogical Societies 1941 – 1963 by Muriel Colburn.
This page last updated on  9/30/2023