Liquidating Your Collection
We at the DGMG often receive emails like this one – 
Greetings,
I wanted to reach out to see if your organization might have any ideas. My father-in-law recently passed away and one of his interest was lapidary work. I still have a few boxes of some nice stones. Do you have any ideas on how best to sell these stones?
Here are several suggestions:
Flea Markets
The advantage of a flea market over a yard sale is that you should have many more buyers come your way. The disadvantages are that there will be fees and you will need to haul all your goods, along with tables to set them on to the flea market location.
You can of course use Google to search for flea markets near me. And there are plenty of YouTube tutorials available to help you learn about the process.
A note about taxes – according to the IRS, if you sell your personal possessions at a yard sale or flea market for less than the original purchase price, the federal government requires no tax payment.
And Colorado State law requires that any vendor selling more than five times per year at any flea market in Colorado, must have a sales tax license to collect and submit state sales tax.
Estate Sale or Auction
Estate sales are more formal and are meant to get rid of a late family member's entire estate. You may choose to conduct this yourself or hire a company that specializes these sales. These companies may typically charge between 25 – 50% commissions from your sale.  Another alternative would be an Estate Auction. Check out this article from the Washington Post for a comparison of the two methods.
You can do a google search for estate sale companies near me or estate auction companies near me to find them.
Again, for sales of a significant rock collection, be sure to notify any local rock clubs well in advance of your sale.
To learn more visit the website of the National Estate Sales Association or the National Auctioneers Association.
Ebay
Ebay offers you a national or international audience with over 180 million active buyers and 2 billion daily transactions. Lots of rocks and minerals are sold here! They charge sellers only a small listing and transaction fee. It may take considerable time however to photograph and list your items and then to package and mail them.
Ebay can be especially helpful if you have no idea how to price your minerals. The auction process will let the market tell you what the price should be.
Several Free Ebooks are available to help you learn the process along with multiple YouTube tutorials. 
Craigs List
You can find just about anything for sale on Craigslist including lots of rocks and minerals. Started by Craig Newmark in 1995, it now covers 70 countries.
The advantage of selling on Craigslist is that there are no fees to the seller and you will be dealing with a local audience so there is no need to pack and ship. Here is a good online article to get you started. And of course there are several YouTube tutorials.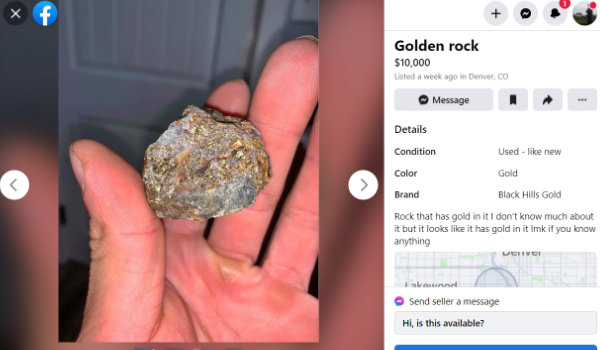 Facebook
FACEBOOK is the largest social network with over 2.5 billion monthly active users, and users over 65 are the fastest-growing group. There are at least 4 different ways to buy and sell rocks on Facebook:
Facebook Pages: Anyone can create a Facebook page and list things for sale there.  It is completely free.  There are no listing fees or commissions to pay. (At least 3 of our DGMG Mineral Show Dealers have Facebook pages, including: Costigan's, Amethyst Rose & Morgan Trinkets.) On your page you can create posts showing what you have for sale and you can have customers send you a private message to ask questions and discuss payment and delivery terms. The biggest drawback is, with over 42 million Facebook pages, how will you get people to find yours?
Facebook Shops: For more formal selling you will want to add a Shop to your page. This will provide for automated online payment. To learn more about this option read: How to Sell on Facebook in 2020 [Tutorial for Beginners]
Facebook Marketplace: is basically an online classifieds site. Until last year, Facebook Marketplace worked much like Craigslist with buyers and sellers meeting in person. But they now offer an option to pay online with buyer protection, similar to Ebay. And like Ebay, this option will charge the seller a transaction fee.  Check out this Guide to Selling on Facebook.
Facebook Groups: If your Facebook Page is not getting any traffic, you can join a Facebook Group that already has traffic.  Selling on a Facebook Group is completely free – no fees or commissions.  Dealers will often go live on these groups so that buyers can ask them questions in real time.    For details on selling in Facebook Groups check out How do I sell something in a Facebook buy and sell group? , 5 Ways I Use Facebook Groups to Sell My Stuff Online,  and Facebook Buy/Sell policies. Finally, be sure to watch this video of a lady who makes $90,000 a month selling on Facebook Groups. I've listed some of the more active rock and gem buy and sell Facebook Groups below.
Gems and Minerals Kingdom 9625 members, anyone can watch, must join group to post or comment. This Group is only for Minerals, Crystals, Specimens and also Faceted gemstones. Members can post 3 items per day. This group is created for sale and purchase aspects. Regular posts and live stream.
Gemstones Worldwide 5620 members, 1500 posts per month. Join to post or comment. Buy and sell. Join to post or comment.
Minerals Treasure 9,286 members, 1000 posts/month. Join to post or comment. Minerals Treasure is an Open group where the members can Post their Items for sale and discussions. Maximum 3 Posts are allowed per day.
Gems Stone Auction Buy/Sell Group 15,887 members, 3,200 posts a month. Must join to view/post/comment.
Gemstones & Minerals Around the Globe (Buy & Sell) 14,246 members, 2,550 posts/month. Join to Post/comment. You can post here anything related to Gemstones and Minerals (Crystals, Rocks, Minerals, Gems, Jewelry, Wirewraps Rough & Cut).
Stones (buy/sell) 21,825 members, 1,900 posts/mo. Join to view/post/comment. Buy and sell gemstones.
Minerals (sell / buy) 9,463 members, 1000 posts/mo. Join to view/post/comment.  Posts may contain only the description of goods, pics, price, conditions for payment and delivery and phone number or whatsapp or email but no links to other sites (ebay, etsy, etc.).
Minerals & Gemstones Connections 7,941 members, 2,200 posts / month. Join to post/comment. Group for sharing minerals and gemstones for sale and discussions.
Gems Minerals and Rocks Buy and Sell 15,588 members. A common Place to Buy and Sell Precious and Semi Precious Natural Stones, Rocks, Minerals, Crystals & Specimens from All Over the World Without Limitation. Synthetic Stones are not allowed.
Crystals & Gemstones – Buy/Sell & Trade 14,599 members, 6700 posts/mo. Join to post/comment. Created for crystal lovers by Crystal Dreams! An international new age store based in Montreal, Canada. You can sell, buy or trade your crystals or gemstones. Discussing, selling, sharing, identifying, metaphysical and just plain beauty of Crystals & Gemstones Group.
Fossils, Rocks, Relics and Minerals for Sale 10,037 members, 2,100 posts/mo. Join to view/post/comment. Post what you want, when you want, however you want, but no spam and no links.
Sell to Rock Shops or Dealers
If all of the above is more complicated than you want to deal with, then one of the easiest ways for you to divest yourself of your rock collection may be to sell out to an existing rock shop or dealer.  Just be aware that they will need to buy your rocks at a price that will give them room to cover all of their many expenses and still sell at a competitive price which will make them a profit.
Watch the video to the left to hear what one dealer – Jeff Lines/JBL Minerals – has to say about that process. You can find Jeff and many other fine dealers at our February Show.
You can also find a number of dealers online who buy collections.
Donate
For any rocks you are unable to sell, please consider the possibility of donating them. Many schools or local museums may be happy to have them.
Also remember that your local rock club, including the DGMG, is always happy to accept donations.  They will work to find a new owner for your rocks, who will love and care for them as much as you did.
Pricing Rocks, Crystals and Minerals: Factors to Consider as a Seller
Finally, check out this article by Jeremy Hall at Rock Seeker on how to price your materials.
"To start with, you're going to need to figure out what specimens of the same type go for.
This usually means checking multiple sources, especially if you plan to sell them in person. If you're trying to fetch a higher price on one of the more common commercial websites (think Etsy) then you'll need either a stellar reputation or an above-average sample."
This page last updated 8/14/2023